Blog
The Lockdown Way: how do you make stuff when you can't leave your house?
By Briar Collard – Producer, Eyes and Ears
---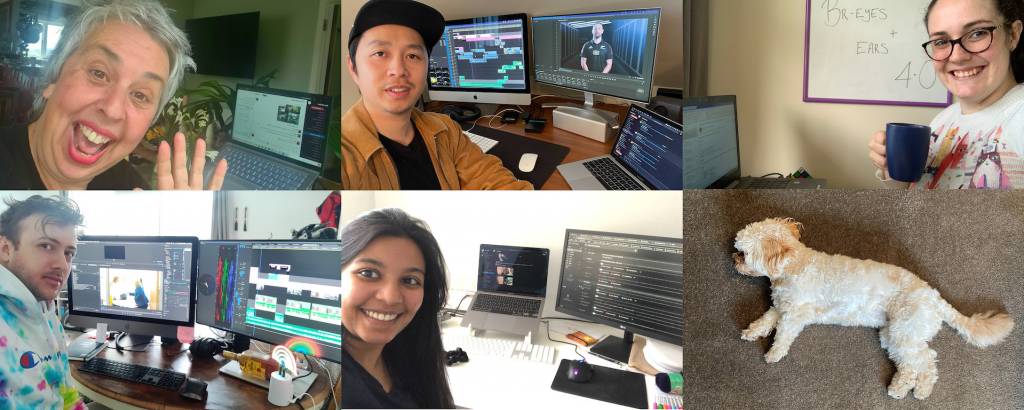 The last year and a half has left us all finding creative ways to think outside the "bubble" and here at Eyes and Ears, we're no exception! The video production show must go on, especially with businesses, marketers and audiences turning to video more than ever before.
As I type, we are in Alert Level 4 in Tāmaki Makaurau. For us, this means all of our team are working from home and any filming has to be put on hold until Levels 2 or 3, where we will still have special protocol in place to keep everyone safe.
But filmmaking is all about problem solving and here at Eyes and Ears, we love a good challenge!
As soon as the first lockdown was announced in 2020, we had our thinking caps on and dove straight into brewing some video solutions to keep our clients connected with their audiences. Here are just a few!
Omega Plus
Agency: Republik
April-June 2020
It was near the beginning of the pandemic when we received a call from the team at Republik. They had a project which had been planned for filming prior to the lockdown but their Creative Director, Andrew Sims, felt like it could still happen with some clever problem solving.
We wanted to stick to the client's request as close as possible, but we knew this was going to be a huge logistical challenge and an even bigger collaborative effort, involving:
Filming in Alert Level 3 with a very cute canine talent!
A multi-talented Director of Photography (Will Prosor), who could not only film the product, but prepare a whole fresh salmon, work with animal talent and…
Setting up a livestream to the client and our Director, so that they could monitor remotely. All of this set up happened in our DOP's very own living room and kitchen.
Arranging the contactless delivery of aforementioned whole salmon, plenty of product and a couple of loads of film equipment to our DOP's house.
The greatest challenge was making a final product that felt like one video. Bringing together so many different elements, there was always the risk that the video wouldn't feel cohesive. Our goal was to make it feel like every element, existing or new, was made specifically for this project.
We brought on Simon Shaw, an illustrator from Watermark Creative, who designed the characters for our in-house team to animate and we started trawling through the many available stock footage libraries to try and find little snippets of adorable-ness.
We used the animated elements and a careful colour grade to match the new footage and the stock footage as closely as possible. With the gift of an awesome voice over script, paired with the perfect voice talent – the video was ready.
The Omega Plus 30sec video went on to be a winner at the Ava Digital Awards in 2021, with Eyes and Ears receiving Platinum Awards for Video Production (Product).
Air New Zealand Flipbook – Taking Paper Planes to new Heights!
August 2021
Level 4 lockdown is a time of heightened stress for many, and our client Air New Zealand took the chance to listen to what their audience needed. This resulted in a series of simple yet creative, relaxing and engaging pieces of social content.
One such idea, brimming in nostalgia, was a flipbook of a plane taking off, encouraging Kiwis to "let their creativity soar!".
The biggest challenge was assembling approximately 200 images, a task that was bravely and beautifully executed by Auckland-local artist, James Wright.
Here at Eyes and Ears, we are fortunate to be constantly surrounded by talented crew and this doesn't change when we're in our bubbles! With multiple filmmakers in our Director's household and with gear at the ready for any at-home filming requirements, the team flew through capturing the content (pun definitely intended).
With all the hard work done, it only took a couple of fun sound effects and a few short hours of editing to bring the final product together! The video has a view count of more than 750,000 people from around Aotearoa and the world.
ACG Schools – Online Learning
April-May 2020…and again in August 2021!
As an education provider with schools all over the world, ACG was a little more prepared than most when it came to getting their staff and students set up and ready to do their learning online. This also meant creating a new animated video that gave parents an insight as to what to expect, while simultaneously promoting ACG as leading educators, regardless of whether they were in-person or at home.
Bringing together a combination of stock footage and existing footage from the school, we developed a voice over script and an animation style in-house, inspired by the school's tone and branding, to tie it all together.
This was our first experience of a remote voice recording session during Covid, but certainly hasn't been the last! Fortunately, a lot of voice talent agents now have a list of talent on their books who are set up to record from their homes and there is no shortage of great voices to work with. Once we had the perfect voice, we used a software called SourceConnect, which you can use to hear the feed directly from the talent's microphone – in the same way that you would hear it if you were sitting in the studio! This allows our Director and the client to monitor the session live from anywhere in the world. You can have a Zoom call at the same time if you want to see everyone too! The video format worked so well for ACG in New Zealand, that they opted to repurpose the format for their schools in Vietnam – an easy shift, with a change in colour scheme, a few images, and a new voice.